Good choice! Product has been added to cart.
I fit snugly into every corner.
I've always got your back.
I fit snugly into every corner.
I've always got your back.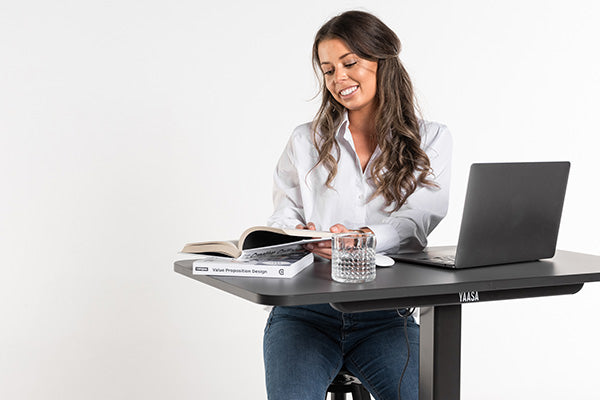 Fast Shipping
The Desk One is shipped 1-2 days after your order and will reach you not long after that.
Free Delivery
Yaasa assumes delivery costs all the way to your front door. The Desk One is packaged securely in cardboard to save resources.
5 Year Guarantee
Yaasa provides 5 year guarantee - so you don't have to worry about the durability of your table.
30 Days Free Return
If you don't get on with the Desk One, you can return it to Yaasa free of charge within 30 days.
That's why you are a good match:
I don't take up much space...
...but there's still room for the essentials.
Space-saving and ergonomic? No problem.
I'm a minimalist... just like you.
Complete your workspace with:
But I've still got so much growing to do!
Frequently Asked Questions:
Einfach perfekt im Homeoffice
Für wenig Platz und maximalen Komfort ist der Desk One perfekt! Die Höheneinstellung des Tisches ist sehr leise, es wackelt nichts und auch die Fußauflage ist sehr angenehm. Lieferung superschnell, Verpackung sehr stabil. Und vor allem auch eine so unmissverständliche und klare Aufbauanleitung, die man heute kaum noch findet. Kann das Produkt nur empfehlen!
Kompakt und praktisch
super teil! war auf der suche nach eine nicht zu großen bürotisch, bei dem ich aber auch stehen arbeiten kann… das ist die perfekte lösung! sollte man aber doch mal sitzen wollen, fährt man den tisch einfach runter! auch das zusammenbauen ist im handumdrehen erledigt und macht keine probleme… lieferung top!
Elegantes Design und viel Liebe zum Detail
Was mir als Techniker besonders gefallen hat ist das schlichte Design und die Liebe zum Detail. Die Filzabdeckung am Fuß macht sich nicht nur gut als Fußablage, sondern verleiht dem Produkt den gewissen Pepp. Die gut verarbeiteten Abdeckungen lassen jedes Kabel verschwinden und hinterlassen einen sauberen Gesamteindruck. Die Verpackung ist sehr robust und dennoch umweltschonend gestaltet - einziger kleiner Kritikpunkt: die Plastik Beutel könnte man wegsparen.
Guter kleiner Tisch als Ergänzung für mein Home Office
Nutze den Tisch als Arbeitsfläche im Wohnzimmer für ein Notebook ohne externen Bildschirm. Die Stabilität ist zwar nicht vergleichbar mit meinem alten, nicht verstellbaren Tisch, aber alle mal ausreichend, für meinen Zweck. Bin sehr zufrieden und kann ich für enge Platzverhältnisse sehr empfehlen.
hochwertiger Stehtisch - top für kleine Arbeitsecken
Super Stehtisch! klein und kompakt, modern und schlicht, einfache Montage in wenigen Minuten, einfache Handhabung und gute Qualität. Tip top - würde ich weiterempfehlen!